| | | |
| --- | --- | --- |
| | Ted's Music is also available at | |
| | | |
CLICK > Below - To play some Ted Tunes
Ted Lehman's MUSIC

-------------------------------------------------------------

"Ted's music has a feel to it that soothes the soul...His melodic guitar sounds are

something this guitar player can only dream about making...This stuff rocks my world!"
Billy G...SuperTraxxRadio.com


-------------------------------------------------------------

"Hard to Get Away" by Ted Lehman;

Very nice work and well targeted submission.... your work, as always, was noted as very commercial in both its style and its format, and that is a high compliment from a commercial publisher like Sweet Rosie Music. Keep up the fine work, Ted, and thanks for considering us, once again, for your publishing needs.

Most sincerely, The A&R Staff Sweet Rosie Music

Swimmin' with the Sharks

Nice little song Ted.... what stood out for me was the quality of your writing. Absolutely first rate job Many thanks again Stuart, One Night Stand Music

Old Man

"Ted, These lyrics are both creative and daring...very nice work. Your songwriting craftsmanship is always so obvious. Sorry but we don't feel this song is a hit song...but we sure do appreciate your talents. Sincerely, The A&R Staff Sweet Rosie Music"

I like the tune and the idea and the lyrics are very good..... ...its another well crafted song. Much Love Alex CMI Music

Don't like to Say Goodbye

The melody and arrangement are very nice. The chorus lyric is a little too close to the beatles concept. Really enjoy the "Band" production approach.

Hard to get Away

Very heartfelt lyrics with the right amount of emotional delivery. The production is well suited to the intent of the song.

Tellin' Lies

Hey Ted Thanks for the submission and its nice to hear from you. I like your ideas and your style. It's not quite right for the theme of the film but it's a well crafted song so if you have any songs of the same quality please feel free to submit them and I will keep an eye out for them. Much Love Alex CMI Music Group

"Radio"

This is a very nice example of authentic Americana/bluegrass so it is a very well targeted submission. We enjoyed listening to and discussing your work this week. Your song "Radio" was advanced by our preliminary screeners for further consideration. It was then advanced a second time by our final decision board to the filmmaker for his consideration. Unfortunately, it did not make the final cut by the filmmaker. We want to thank you for, what we thought, was a fine piece of songwriting and a well targeted submission. Keep up the very fine (and creative) work. Sincerely, The A&R Staff Sweet Rosie Music

Faith: Great song Ted. Really good!!

The Better I was

It's a good song; just not what we're looking for. This time it's a no, but we enjoyed listening- The SkyTone Team.

"Don't Like To Say Goodbye" Acou/S/S "The Better I Was " Country "Fast Lane" Acou/SS "Live For Today" Country Ted Lehman, Good to hear from you again, Ted. We have been somewhat "immersed" in your music as we listened to the 4 submissions that you sent to us this last month. It was obvious to all of us, as we discussed your material, that you are a very talented writer who understand exactly what you are aiming for in your writings. You have a very good understanding of what constitutes commercially viable music...this is all very nice work. All four of your submissions were advanced by "preliminary screeners" for a secondary opinion. That also speaks highly of your writing abilities. And 1 of your songs ("The Better I Was") was advanced further to our final decision board. Unfortunately, it did not make the final cut with our final decision board. While the song is excellent from many perspectives, especially format and structure, we didn't "hear" that killer hook that we feel is necessary to support the weight of a single. This, of course, is a very subjective area, and so very difficult to articulate as well. So for that reason, we will pass on publishing at this time. Also, please keep in mind, that we are wrong about these things just as often as we are right. A decision like this is highly subjective! That is simply the nature of our business. As we are confident you already know, the lyrical hook of "The older I get, the better I was" is really an excellent seed to build a song around. The other songs may find a very good home in film and T.V. soundtrack placement; unfortunately, right now we do not have a good placement in that arena for your songs. Thank you again for your quality submissions. We very much enjoyed listen to and discussing your work this week. Sincerely, The A&R Staff Sweet Rosie Music

Ted Lehman
"Rough Cutz"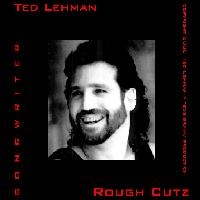 Ted Lehman is an artist who has been recording music for over twenty years, and his varying styles have

meant he's recorded some music I'd describe as great, and just as many songs I would describe as . . .

well, a little less than desired. But as a person who has listened to most of Ted's catalog, I've found

what marks, in my opinion, his best effort as an album. "Rough Cutz" sometimes stumbles. But it doesn't

seem like an album that is just hacked together from miscellaneous tracks, like some of Ted's albums do.

In fact, this is the first album by Ted that I can play straight through, not skipping around t

o favorites. Why is this, you might ask? Because most of these tracks are my favorites.

Take for example "The Band". A bluesy upbeat ode to musicians, Ted uses this song to tell the story of

how he can't seem to write music unless he is part of a band. The tune is well crafted and catchy, leaves

you wanting more. It's a hook filled chorus that lifts this track beyond the rest. Then there's "I Want My MP3",

which succeeds as a fairly bluesy anthem, even with production that sounds less than stellar. It was

"I Want My MP3" that gave Ted a look at the spotlight on mp3.com, and it was the first of his songs I ever heard.

I still enjoy listening to it, and that says something of his staying power. "Always Love" is another groove filled track.

The stomping beat, uptempo bass and guitar and catchy vocals make this a song that is more than just worth a listen.

"Hard To Get Away" is maybe the most commercial track on this album. I can picture this playing on a

classic rock station, it's the kind of seventies style ballad that keeps my attention,

much like songs off Billy Joel's early album Cold Spring Harbor.

The only track out of these nine that really doesn't seem to fit, is the final track, a cheaply recorded first

demo of "The Band". It detracts from the overall sound of the album, showing a side of the music that really

doesn't do Ted's creative work any justice. As a whole though, "Rough Cutz" stands as a serious example of what

Ted Lehman can do with music when he puts his mind to it. It is because of this album that I've kept listening to

his music for well near three years. If you like catchy tunes and interesting lyrics,

Ted's your man, and you'll enjoy this album as much as I do.


-------------------------------------------------------------

Ted is a classic Internet Icon. He writes songs, records them and uploads them. He's prolific and you can

find out so much about Ted through his songs. I totally love his new track "Live for Today", how can Ted

be getting better and better even though he was so good to start off with??? Ted's also a total Gentleman. If only every star could be like Ted...

bbchris

-------------------------------------------------------------

Ted:

YOU HAVE SOME great TUNES!!!

I have really grown to more deeply appreciate your music since I have been playing it on the radio ............


Love and HUGS
Swannie

Song Planet Radio DJ


-------------------------------------------------------------

This, is the real thing. As roots as roots gets. There is a realness about Ted and his tunes that you don't

see too often. Uncontrived and inspired by real life...It's the kind of music I grew up with, so I relate to it well. Good Stuff!

-------------------------------------------------------------

Ted, I could write on about all the various sounds I hear in your music, but I'd probably be writing forever!

I like how versatile you are as a musician - great songs both lyrically and musically, and they're really

well-performed with obvious presence. I really love your guitar in everything I've heard here,

especially. looking forward to hearing more of what you do, over time. all the best!

Laurie Fraser

-------------------------------------------------------------

"It's About My Life"

Bouncy new wave style. Very, very good use of title to create a strong lyrical hook. Very nice use
of musical hooks throughout this song. Sections separated very well and their distinct roles brings a
power to this song that propels it forward. Engaging and captivating lyrics that are delivered with a
passion that makes the narrator instantly believable. There is no bitterness just a stance that it's not
about you, its about me. This song could act as supportive for any relationship breakup or resigning from
a hated job. Lyrically, this track is outstanding and should act as a role model for anyone leaving either a
job, relationship, parent or any where else where you are not being heard! Very nice guitar work.
Dual guitar leads and back and forth play in the musical interlude work very well together.
-------------------------------------------------------------
"Old Friends"

Ted Lehmans a cool seasoned singer/songwriter recording in a bluesy rock style.. I really like Old Friends..
Its beautifully messy and energy driven with a really exuberant chaotic performance, Pete Townshend style
busker-bashin' acoustic and joyful ringing hooks.. Its sunshine smiling and
carrying some good spirit from the 70s on its journey into the new millennium..
Steve Ison
-------------------------------------------------------------
Coming Home For Christmas
Hey Ted!!!
Very cool arrangement. I really liked the vocal.
The theme is well represented by the lyrics. You touched on the emotions of most people who love this holiday..
and why this has become a special holiday for everyone who loves associating this with family.. and friends.
There were a few times I felt the drum track (bass drum) was out of sequence with the bass and bells.. but thats just me
Great song anyway.
Always like hearing a new Ted song.

Blessings Ricky
The listener never remembers what they heard, only what they feel.
-------------------------------------------------------------
"The Band"
My first thought when hearing this song was whoa..cool song.
It has that pro quality sound to it, something all us independent home recordist try to strive for.
Ted turned in a great vocal performance, as well as some great guitar playing, supplying

a generous amount of blusey guitar fills to keep guitar fans more than happy.
There are some background vocals provided by some female singers that have that Bob Segar vibe,

very cool. Also present is a killer piano track helping to lend a hand to that southern blues rock
"Sweet Home Alabama" vibe, albeit in a more of a mid-tempo setting, but very cool needless to say.
Be sure to check out some more cool Ted Lehman songs by clicking on his official website link on his Download.com page.
DR Kim
-------------------------------------------------------------
"Ready For You"
....is another full bodied and rich in texture song. Synths, piano, and drums mixed with harmonies and
strong vocals. None of it crowds you, but washes over you like a strong running stream. Laying down
the synth and piano tracks on this one must have been fun, they sure are a pleasure to listen to.
They intertwine, separate and compliment throughout the tune. The solos sections fully engage your
already swaying and toe tapping mood. The rhythm guitar gave way nicely to the ivory on the lead.
Some might say that this version is a bit long being over six minutes. I found myself wanting to hear more...
or hear it again. Ted is a storyteller in his lyrical writings and his vocal presentation. This is the type of tune
that brings out the wonderful parts of Ted's voice. Strong and outdoorsy with a conversational style.
Ted brings it off combining a strong sound with an implied gentleness. When Ted
sings this to a crowd I believe the girls are ready by the end of it. Review by Banker
-------------------------------------------------------------
"The Gift"

This song has the typical "club character" when you play that in a club all the people would tip with their
feet on the ground and I would see everyone smiling. Really nice song Ted, especial the vocals! Kris
-------------------------------------------------------------
"I WANT MY MP3"
I Want My Mp3 as protest song... Ted ranks on The Man. Sure, he could whine and bellyache like I
would singing a protest song. BUT NOOOOO... Ted has to get ironic and humorous. And toss in all that
compelling instrumental stuff that hallmarks his arrangements. Harmonica, deadcenter percussion, and
badboy fuzzbox on the guitar to highlight his now-stylized approach to producing his vocals. I kept thinking
movie soundtrack. If two campy fat boys can cop an Oscar for doing Flintstone music, then I shudder
to think what Ted's track would do mated to some decent video. Most of you already know all about the
track. But for those of you who haven't bothered to check it out,... you really should. It's the ultimate diss
on the music industry. He doesn't bitch about it - he damn well thumbs his nose at it. This is clearly a
role model for all of us... Strong songwriting and lyrics as well. I can't wait to take my annual road trip to
Nowhere, Arizona with the spouse. I already told her I lined up some music for the highway. And the cool
thing is that she already digs Ted, too! No more Dead - I'm listening to Ted! That woman hates protest music.
But this one she'll dig. I like the part where his guitar basically farts at A&R reps. I'm with ya, dude! So give
yourself a break from taking it all too seriously. Go listen to Ted Lehman diss the
mufuhs again. And maybe you'll be inspired to fart at an A&R rep too! Billy Shaw
-------------------------------------------------------------
"I WANT MY MP3"
Review: Excellent song to the the rock-n-roll anthem for any MP3 site. Great vocals and a song that rocks.
Once of Ted's best. This song will always be a classic. Great and crunching rhythm guitar. Excellent
Post 00's drum beat. This song is true art in the rock-n-roll sense. rating: 1 Reviewer: bruce Chambers
-------------------------------------------------------------
"Live for Today"
Well, I've been listening to so much music of every genre recorded directly to hard drive that I almost
forgot what 8-track analog even sounds like! (Except for Old Blue, which qualifies
as an honorary digital recording it's so clear). Ted peddles this one as "great! garage".
Now I'm going to characterize it considerably differently. Live For Today is rather more like that one track that
Events Directors at family-oriented resorts wanna hear before they sign your band up for a one-week 12 show
engagement. Sure, there were a coupla "adult" words in the lyrics, but the song maintains a Huey Lewis-like
friendliness that works at Bar Mitzvahs and weddings in addition to the resort bar and lounge scene. This is
no knock - quite the contrary. I know a considerable number of musicians doing this circuit who would kill to
acquire The Sound. It's expansive in scope - you've got grammar sittin' and slurpin',
and the little ones right in front of the stagewhirling around until they fall down silly.
So here's this feel-good version of a "You gotta live for today" multigenerational party tune, and it
so exudes the joy that Ted brings to his art, you gotta kinda wonder, "Is there a Dark Side?"
Well, yes there is. I've looked over the lyrics to this song along with quickly handwritten notes about the
music and arrangement, and I've come to the conclusion that it's all in the delivery. The "happy and exuberant"
facet to the song is Ted's performance and interpretation (and this is one strong vocal job by the man). S
omeone could re-portrait the song into a dark genre using a dobro, reinterpretation of the lyrics, and an upright bass with a fiddlestick.
This song was a light bulb for me. I finally realize the inner nature of Ted's art;
in half a sentence, Ted is happy to be doing this. It might be that simple.
The song is catchy, decently arranged as a Standard, has a coupla chording additions that spice up the
fabric of the background, and features in addition to the high-end instrumentation
I'm getting to expect from Ted/the Boys, a pretty good harmonica part.
But there could be a penultimate version of this song as yet unrecorded. I would, if given the chance,
like to get James Hetfield rip-roaring drunk, hand him a banjo, kick him in the balls
once just to get him mad, and then record the song. That would be the "garage" version.
Another good Ted tune. Neither your children or their grandparents are gonna be hankering atcha to turn it off.
Billy Shaw

-------------------------------------------------------------
"The Gift"
Ted Lehman from Lawrenceville, Ga - USA is listed as a Pop & Rock artist, but I wanted so see if there
was a softer side to the on-line Ted I have been getting to know here on the boards, so I took a listen
(Hi-Fi stream) to "The Gift" which is a song that was written for Ted's girlfriend, now his wife. The love
fest runs 04:45 and is very smooth right from the begining with a latin vibe. The lyrics are thoughtful and
introspective and when I hear Ted's voice it makes me smile... his vocal style is a very effective means
of communicating very heart felt words. I was really taken with the guitar work that slips into somthing
comfortable right around 01:45 and danes gracefully through the track until the vocals come back to the
forefront at 02:35 (this dude can play). Ted's site indicates that this was recorded on an 8 track analog rig -
it is mixed very well and production stands up to many more modern recordings I've heard... better yet the
warmness of the track even makes itself felt through streaming MP3! Give yourself or someone
you love a wonderful gift this holiday season and thank Ted for it. Review by Ray Legrand
-------------------------------------------------------------
"Old Friends"

One of my favorite songs. I think we all can relate to this one. Review: Ted vs. Don or Cat Stevens meets

Mr. Marley. Actually, I think Don's version sounds a little more like Lounge than Reggae. "Old Friends"

is a very good song and I enjoyed both ersions, however, I found Ted's version a little more interesting

(Don's could use more dynamics). Also, Ted does more vocally, which adds a lot to the song. Not surprising,

actually, since it's Ted's song. I have to give Don credit on an original arrngment (and that's not easy to do)

Overall, a good effort by both artists but, for me, I gotta go with Ted. rating: 4 Reviewer: Pete


-------------------------------------------------------------




"Betty's Song"

"The sun is shining, the birds are singing & Ted's rocking my ears off. This is folk rock come psychedelic

at it's best. Listening to this track makes you want to thank the ones you love for just being them. Yes, it's

'that' great & powerful. It's also performed live......perfectly. The music sets up your sun lounger & the vocals

pour you a nice cool drink for you to lap up. Although this was recorded back in the 70's - it has this amazing

edge of freshness that makes it stand out over the crowds here at mp3.com. 'Betty's Song' is for all ages &

generations to admire. It's a standard that will stand the test of time & even make your soul mistake it for Mecca." Riddler J.

-------------------------------------------------------------

20 Years of Memories
I listened to this four minute professed country song with crappy speakers under streaming lofi. I gotta

admit, I think I heard about everything going on in the production with pretty good clarity and reasonable

resolution down to the harmonica riffs and the tastefully applied delay on the vocals. In fact, I was extremely

impressed with the production. The vocals were very nicely mixed right where they

needed to be, and there really wasn't any aspect of the production out of place.
The song itself is a catchy commercially viable "happy" tune, all things considered, and some of the apparent

discrepency between the musicality and the lyrics make for a deeper irony toward the resolution of the song.
Overall impression has me kinda thinking of early Jim Croce. But a Ted track has more going on simultaneously;

and it works, in my own opinion. But the guy's been at this a long time and pretty well has in hand what he can and can't get away with.
Not a trendsetter, but a very cleanly preformed and recorded track that won't make your family mad if you play it on a roadtrip.


-------------------------------------------------------------

<![if !supportLineBreakNewLine]>
<![endif]>

Alpha Blues

The second Ted song I listened to was Alpha Blues. This time I was

listening to lofi streaming through high end audio equipment and headphones.
Alpha Blues is on Ted's Blues station but labeled as "Psychedelic" genre. Song runs a shade over ten

minutes. The principal components of the work are an acoustic guitar, an electric lead, and one vocal.

They intertwine through the piece consistently and in balance. There is a keyboard through the first half

of the song, but it fades away as the "trio" (guitars and vocal) get cooking in the second half of the affair. F

rom what I could tell, there were no percussion instruments/effects through the entire song. The absence

of drumming makes for something more of a "folkish" feel, but I gotta tell ya, I didn't even notice the absence

for at least half the song! I was mostly focused on the triad thing Ted had going with his voice and the guitars.

Personally, I didn't think that the keyboard either added or detracted from the song. I was getting way focused on that triad thing.
The vocals were something similar to a Jerry or Joe Walsh psychodelia lead.

Much of the song (especially the electric guitar) reminded me of going to a Ted Nugent show.
The words were fairly crisp and easy to understand. The track had no superfluous to it whatsoever.

No unneeded additional vocals; no extra guitar that could have been left undone.
I'm beginning to characterize Ted's stuff in my own mind as "busy", but only exactly as busy as required.

Nothing seems overdone, and there is headspace within the tracks I've heard. Striking a

balance like this requires alot of experience, and I'm finding that on Ted's stuff.
The core of this track is this "triad", an acoustic, a lead, and a vocal. Of the three, I believe that Ted had

the most to say using the electric. It worked the gamut. I don't wanna try and wordize the instrument -

it would be like giving away a movie plot; you'd be better off listening to the track yourself and following the

lead work through the piece. Again, I got a Nugent feel off it, and there ain't a whole lotta

folk still alive who would... but you might

connect it with an entirely different feel.
This was a totally fun track. There is depth to the piece. Doing "psychedelic" music means more than jamming

a long song and hoping your audience is high. I would call this piece a reasonable representation of the genre

without having to resort to purple microdot out in the parking lot. There is probably

some tongue-in-cheek with it that I've yet to absorb, but the buzz is there.
Totally nice job. If I had to specify a wanted Ted CD, I'd have to go with the one this one's on.




-------------------------------------------------------------

"Old Blue"

Old Blue can be characterized with phrases like appealing, highly commercially viable, extremely

well produced and recorded, wonderful performances from all instruments and vocals, and

some other gushy tomes I could crank together. However, (and this really doesn't have anything to do

with anything, but I figured to get it out of the way...) this is not country. Shouldn't be pitched country, s

houldn't be compared to country, ... why, you

shouldn't even try drinking whiskey around this song.
In fact, it's so not country, I wouldn't be surprised if Alabama and Garth Brooks didn't get into a bidding

war for their chance to do more pop music. Yes, the song is that strong. If I had the chance to pitch it to

Alabama as the one favor I could ever ask of them, I would do it, and I would most likely succeed with it.
For the less cynical non-country fan listening to this song, it kinda conjures up The Doobie Brothers.

It's freewheeling, it's pretty fun, and runs out like a five minute saga that doesn't clutter yer head with anything heavy.
Standout performances in the song for me included vocals (although they could have stood less effects

but it does maintain a very Ted sound) and keyboards (including an excellent organ part in addition t

o tasty piano). Nice drumming and highly capable guitar round out this five minute song.
Songs like this scare me. Are there more of these out there?! How many

more potential hits aren't we getting a chance to listen to?
I am not being trite or sucking up to Ted. But if I were in a position to pitch this song within the country genre as

Ted imagines it, I would go straight to Alabama with it. It's right up their alley, and in the past,

they have expressed interest in receiving this type of song. Very strong song.

-------------------------------------------------------------

"Superman Fan"

This is a cute song with a fresh lyric theme. The melody is catchy and well written with a catchy hook.

Good song structure with solid transitions and turnarounds between sections. The lyrics are

honest - First line makes me want to hear more, a solid country song. Good luck to you.


-------------------------------------------------------------

"Ready For You"

Powerful vocals here on this opener. Good solid chorus also. T Very good musicianship and good

sectional contrast also. Good solid rhythmic intro to the second song. Again, though, it has a

definite blues feeling to it. Chorus is a listener's dream--melodic and easy to remember. nice work.

Ted is a classic Internet Icon. He writes songs, records them and uploads them. He's prolific and you can find out so much about Ted through his songs. I totally love his new track "Live for Today", how can Ted be getting better and better even though he was so good to start off with??? Ted's also a total Gentleman. If only every star could be like Ted...

bbChris

Ted, I could write on about all the various sounds I hear in your music, but I'd probably be writing forever! I like how versatile you are as a musician - great songs both lyrically and musically, and they're really well-performed with obvious presence. I really love your guitar in everything I've heard here, especially. looking forward to hearing more of what you do, over time. all the best!

Laurie Fraser

This, is the real thing. As roots as roots gets. There is a realness about Ted and his tunes that you don't see too often. Uncontrived and inspired by real life. I think that due to the live nature and average sound quality of the recordings themselves, it does not lend to a fair representation of how good the songs really are. Ted, you have to do a studio recording of some of these tunes, they ar

e good songs. The drum sound needs work, it will give a little more dynamics to the whole. I would like to hear your vocals on a good condenser mic. You have a strong, rich voice that you should showcase more. It's the kind of music I grew up with, so I relate to it well. Good Stuff!

Michael John Malisos


A Ted's Brain? Production Copyright (c) 2003 - 2017 Ted Lehman (ASCAP)
A Division of Ted's Promotions Inc.
Copyright © 2003 - 2017 by Ted's Promotions Inc. All Rights Reserved.